The best Instagram Client for Mac
Who knew it was so easy to master the uploading to Instagram from Mac! Uplet Lite offers you a direct access to your Instagram account and you can share pictures in a click. Also view your feed and comment on photos of your friends. It's just like Instagram for Mac! Captions for pictures to post on Instagram can be typed on your Mac keyboard and photos can be shared in original resolution and quality.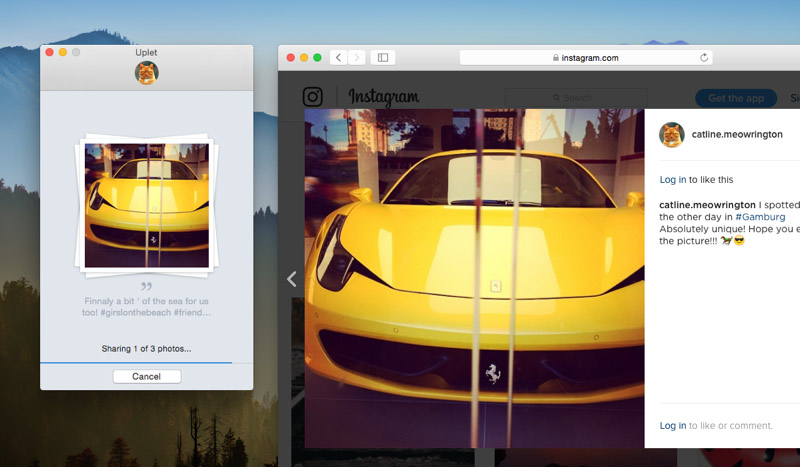 Top Features:
photo upload directly from your Mac
upload high-resolution photos in original quality
view Instagram feed from computer same way you would on your mobile device
comment on and like photos in your feed
No matter what device or camera you used to take some cool photos, Uplet Lite is the top Instagram uploader for Mac that can upload them to your page. You can even edit photos in professional editors prior to uploading, to make your profile even more awesome.
Uplet Lite provides you with the same experience you would get with the original Instagram client for Mac if there was one. You can even manage your profile settings and change name and description.
You will need an Instagram account and you should own pictures to post on Instagram so that your account is not banned. So please be respectful to others in this wonderful worldwide community. Please note that Uplet Lite is not affiliated with Instagram.
Got some cool things to post on Instagram or good pics to post on Instagram? Uplet Lite is right what you were looking for!
Utilities

Uplet for Mac
This Instagram Uploader for Mac
is fully compatible with
macOS 10.10 and later
.
Requires

15.42MB

free space
, latest version
1.3.192 released 14th Jun, 2017
4.5 rank based on
4.5
58
+ users