Batch Image and Video Uploader to Instagram for Mac
Who knew it was so easy to master the uploading to Instagram from Mac! And it is not just a picture at a time, but many of them. Uplet offers you a direct access to your Instagram account and you can share multiple pictures and videos in a click. It's just like Instagram for Mac! Captions for pictures to post on instagram can be typed on your Mac keyboard and photos can be shared in original resolution and quality.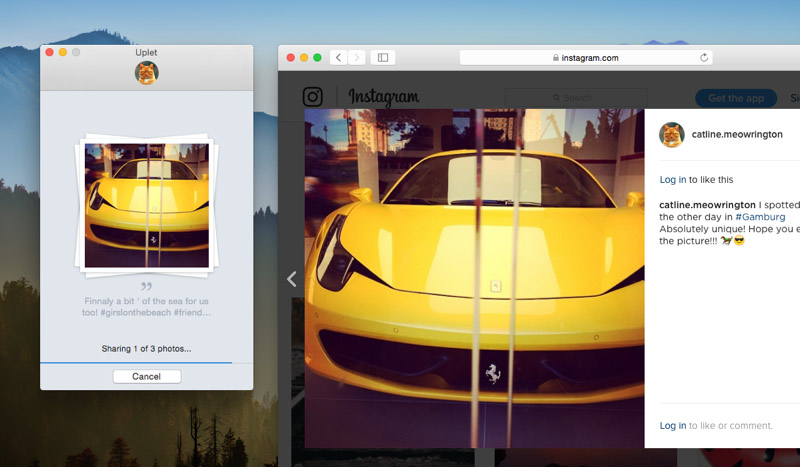 Top Features:
upload any number of photos and videos from your Mac
share high-resolution photos
use emojis
share square or original size photos
No matter what device you used to take some awesome photos, Uplet is the top Instagram uploader for Mac that can handle any number of pictures in just one click.
You will need an Instagram account and you should own pictures to post on Instagram so that your account is not banned. Please note that Uplet is not affiliated with Instagram. Keep in mind that not all of your followers will be excited about a gazillion of photos in their feed ;).
Got some cool things to post on Instagram or good pics to post on Instagram? Uplet is right what you were looking for!
How to upload videos on Instagram? Uplet – a video Instagram uploader which allows sharing videos right from your Mac.
Utilities

Uplet for Mac
This Instagram Uploader for Mac
is fully compatible with
macOS 10.9 and later
.
Requires

14.86MB

free space
, latest version
1.2(156) released 10th Jan, 2017
4.5 rank based on
4.5
58
+ users